The monthly

news

bulletin from Transition Town Totnes.
Taking positive action together in a changing world
Welcome to the September TTT newsletter
As I write this I have been acting manager for a month and a half, and TTT has celebrated its 9th birthday! TTT has been out and about a lot over what remained of the summer, firstly at the Mayor's Picnic with a "Guess the number of popcorn kernels to win a film festival pass" competition (Film Festival is

14th-15th November

– mark it in your diaries!). Our stall was also groaning with fruit, veg and calendula seeds from Incredible Edible. The following weekend we were at Totnes Pride, which was the biggest, boldest, happiest yet.We were saddened to hear
the

news

that John Comben had passed away suddenly. John was a leading member of Incredible Edible and the abundant harvest this year that many have enjoyed is partly down to his efforts and expertise. He will be much missed. If you haven't already seen it, here is his obituary, published in the Guardian this week.
Mary and I were privileged to witness a Transition Wedding on27th August at Follaton House - we wish Lynda and David every happiness in their marriage. Lynda is involved with the planting group at Transition Honiton. Then last week we hosted an IPC  Edge event in Totnes for a group of visitors who had been attending the International Permaculture Convergence; many thanks to Hal and Nicola for pulling it together. We welcomed our guests with a pot luck supper and they toured some inspiring local projects. We ended the week with a boat trip down the Dart with interesting commentary from Stefan and Hal, and finally topped it off with the inspiring Transition Network Conference at Seale-Hayne College.
Now we are hurtling towards October and the nights are drawing in and getting colder, but that doesn't have to be a problem. Making your home cosier or cheaper to run need not necessarily be expensive or involve complex alterations, and there is usually something you can do whether you rent or own your home, and whether home is an ancient place, or new, or somewhere in between. Gather inspiration from some of the homes that residents have generously opened to the public as part of our Open Eco Homes weekend on 3rd and 4th October, and check out the Eco Homes Fair on the following Saturday (10th). Click here to for further details and to download the programme.
Chantelle
August Skilling Up workshop report back:
The REconomy Centre ran it's Skilling Up for Local Economic Change workshop in August and had a full cohort of 12 participants. The weekend was designed to help activists and community organisers become familiar with the theories and language of 'new economics', and get some practice with tools and methods that can help them become effective changemakers in their own communities. In other words, the course is designed to help people in other communities to do 'reconomy-type' projects like the Local Entrepreneur Forum, Totnes Pound and REconomy Centre. Are these ideas spreading? Perhaps. Attendees came from Preston, London, Plymouth, Okehampton, Exeter, Somerset, south of France, and Brazil. The next Skilling Up for Local Economic Change will be offered in the Spring.
Jay
---
Fruit & Nut Tree Project Summer Pruning workshop
A summer pruning workshop was held in the Town cemetery on August 29th, with Charles Staniland taking us through the rudiments and finer skills of this art on the varied trees now fruiting there, including plums, pears and apples. It was good to be able to taste the fruit as well as care for these trees, and to have the interest of people passing by as well as the group assembled there. In the photo at the top you can see Nicola and I tying boughs to improve the shape of an apple tree and stop overshading.
There are now lots of fruit and nuts on trees we have planted over the years, all over the town. So watch out for the ripest times to pick and the nuts falling, on any trees near where you live or pass by.
Forthcoming dates:
Tree care in Bridgetown September 26th, time tbc, contact Wendy
Tree care in Town cemetery and Follaton arboretum, November 28th, time tbc
Also, we are trying to organise apple harvesting and pressing ... date and venue tbc
An apple tree in the cemetery (left), and a sweet chestnut planted in Bridgetown 6 years ago, now abundant with nuts and towering over Joy (right).
Wendy
Open Eco-Homes,

October 3rd - 4th

, and Eco-Fair

October 10th
For the 7th year running Transition Town Totnes is organising an Open Eco-Homes weekend featuring homes and other buildings that have taken steps to reduce their environmental impact and household bills. This year's event is on Saturday 3rd and Sunday 4th October, and should provide a wealth of information and inspiration, whether you are looking to build your own eco-home, install renewable energy or simply make your home more energy efficient. Homes open to visit last year included a house made from an old cider barrel, a Passivhaus refurbishment, a newly built home with straw bale insulation and a flat which had been significantly draught–busted. This year we have several new buildings and projects. Also featured are energy generating schemes, including a community wind turbine, the hydro scheme at the Totnes weir and the new field solar and biomass boiler at Dartington Hall Trust.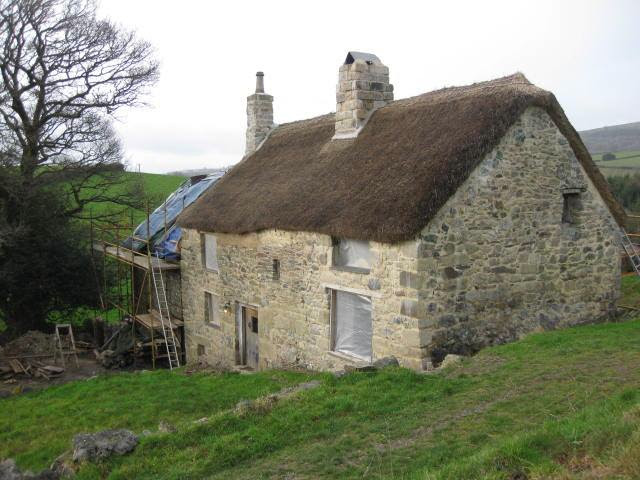 For most of the featured homes and projects there is no need to book - just check the opening times and turn up. The exceptions are the tours of the Dartington renewables and theSunday Bob the Bus tour. The bus tour will take in a community self-build project in Broadhempston and Swete Sigford (pictured), a medieval Dartmoor half-house, once derelict and now being restored using local natural materials. The programme for the Open Homes is  available for download online, or from Totnes Information Centre.
On the following Saturday, 10th October, in the Totnes Civic Hall, Transition Town Totnes will hold an Eco-Homes Fair featuring suppliers of eco-friendly goods and services plus home energy installers. Over 400 people visited the fair last year; please email Mary Popham or call on 07815 799996 if you want to know more or to book a last minute stall at the fair.
Mary 
---
Wildflower Talk in support of TTT Film Festival - CALL FOR CAKES!!!
Preparations for the Film Festival are moving apace and we will soon have a very exciting announcement to make - WATCH THIS SPACE! In the meantime, please put the date for our fundraiser Wildflower talk coming up October 8th at 7.30pm, in your diary. Malcolm Baldwin will be giving us the benefit of his experiences as a natural history photographer and TV cameraman with an enthralling evening of stunning images.
If you can do some baking for us, please deliver cakes from 6.30-7pm on the night at the Methodist Church. Expenses will be reimbursed with receipts. Please contact me to confirm you're bring a cake - sumaussie@hotmail.com /0790 626 5640.
Patti
---
Local Entrepreneur Workshop during Global Entrepreneurship Week
The Local Entrepreneur Workshop is designed to stimulate, inspire, and support enterprising change makers develop their business idea and maybe even to help prepare to pitch at the nextLocal Entrepreneur Forum. This workshop is a full-day session on November 21 from 9:30am - 4:30pm at the REconomy Centre. It will focus on four themes: Leadership, Innovation, Business Models, and Pitching Your Plan. The day will be productive and fun with interactive discussion, activities and lots of resources. Cost is £20 with bursaries available. Email to book.
The timing coincides with Global Entrepreneurship Week. In addition to the workshop, we will be having a LEF Networking Social on Thursday 19th at 6.30pm at the Dartmouth Inn, and Hal is organising a tour of our local craft breweries on Friday 20th. See below in the events listings for more info.
Jay
---
Share Shop for Totnes?
Mi from the Network of Wellbeing is leading the possible development of a Library of Things, or Share Shop, in Totnes (along the lines of the one opened in Frome). If you have an interest in seeing this happen, please can you fill out this survey.
Erica